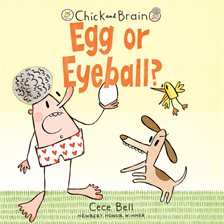 eAudiobook hoopla Instant
Egg or Eyeball?
Year
2020
Language
ENGLISH
Duration
15m
Publication Information
Dreamscape Media
Summary
Oh! Oh, oh, oh! Look what Brain found. Chick and Spot say it is an egg. Brain says it is an eyeball. Is it an egg or an eyeball? The inimitable Cece Bell is back with a second hilarious primer on good manners gone awry and arguments run amok. Perfectly pitched to kids just learning to read, this offbeat graphic story by a master of the genre builds to an exhilaratingly absurd surprise ending.
Subjects