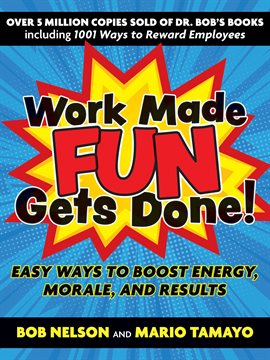 eBook hoopla Instant
Work Made Fun Gets Done!
Publication Information
Berrett-Koehler Publishers
Summary
Every business needs happy, engaged, and motivated employees, whether it's a major corporation or one of the over thirty million small businesses in America today. Most elements in modern business work against this basic need: constant change and increasing stress from both the speed of business and its complexity, as well as the expansive application of technology to all aspects of business. Work Made Fun Gets Done gives the reader simple, practical ideas for instantly bringing fun into the workplace. Based on examples from scores of real companies like Pinterest, Asana, Bank of America, Genentech, Zappos, Honda, General Mills, Microsoft, and many more, as well as the authors' collective experience, this book provides clear behavioral examples on exactly what managers can do to immediately lighten the tone of the work environment and excite their teams. The book, written in a fun style, contains lighthearted illustrations and callout boxes to highlight fun practices.