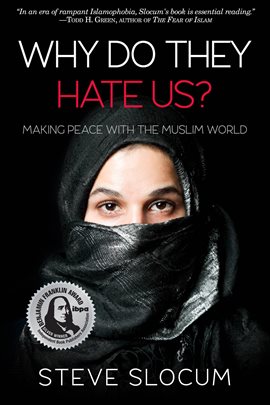 eBook hoopla Instant
Why Do They Hate Us?
Publication Information
Top Reads Publishing, LLC
Summary
With Americans still in shock after watching packed airliners slam into the twin towers, George W. Bush asked America, "Why do they hate us?" After 9/11, the world became more fearful, and acts of terrorism were prominent in the news cycles. In Why Do They Hate Us?, author Steve Slocum takes the spotlight off the extremists and instead exposes the heart of the everyday Muslim through Christian outreach. Why Do They Hate Us? brings the story of Mohammed to life and unveils the storied history of Islam with refreshing detail. Slocum clears up common misconceptions about jihad, Sharia law and the role of women in Islam. He then connects the dots for readers of all faiths between cause and effect for the rise in Islamophobia. Finally, Slocum suggests practical ways to overcome societal fears by face-to-face interaction with our Muslim neighbors. Why Do They Hate Us? is sprinkled with stories from the lives of everyday Muslims and anecdotes from Slocum's time in Kazakhstan, allowing the reader to catch a glimpse of a different side of Muslims than portrayed in the media.