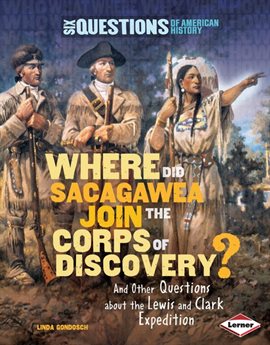 eBook hoopla Instant
Where Did Sacagawea Join the Corps of Discovery?
Publication Information
Lerner Publishing Group|Lerner Publishing Group
Summary
When President Thomas Jefferson purchased the Louisiana Territory in 1803, the size of the United States almost doubled. Suddenly, the country stretched from the Atlantic Ocean all the way to the Rocky Mountains. But no one knew much about the new territory. Jefferson sent Meriwether Lewis and William Clark to explore it and report on what they found. What would they need for their journey? How would they cross high waterfalls, snowy mountains, and raging rivers? Who would help them speak and trade with Native Americans along the way? Discover how Lewis and Clark overcame these and other challenges while collecting important scientific information and carefully mapping unknown lands. Find out how their courageous expedition opened the West for expansion, trade, and development.