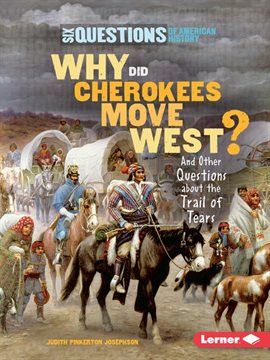 eBook hoopla Instant
Why Did Cherokees Move West?
Publication Information
Lerner Publishing Group|Lerner Publishing Group
Summary
On May 26, 1838, U.S. soldiers surrounded Cherokee villages across Georgia. The soldiers came to force Cherokee families to move to a new territory in Oklahoma. The Cherokees had little time to gather their belongings before being herded into camps. From there, 13,000 were forced on the thousand-mile journey to Oklahoma. They had little food and no shelter from the weather. Many-especially children-grew sick and died. The forced march became known as nunna-dual-tsuny-the Trail of Tears.