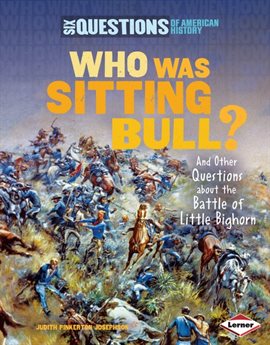 eBook hoopla Instant
Who Was Sitting Bull?
Publication Information
Lerner Publishing Group|Lerner Publishing Group
Summary
By the mid-1800s, thousands of white settlers were traveling westward through the Great Plains. Pioneers built farms and ranches, and companies laid railroads and dug mines. But the plains were the homeland and hunting grounds for many Native Americans. To protect their traditional lands, Native American warriors attacked white homes and settlements. The U.S. government tried to keep the peace by promising to keep white settlers and soldiers out of Native American territories. But the government broke its promise in treaty after treaty. The conflict between the U.S. Army and Native American nations peaked in 1876 in Montana at the Battle of Little Bighorn-the last great battle of the American West. So what Native American groups were involved in the battle? Who led the U.S. soldiers? How did the battle change life for Native Americans living on the Great Plains? Discover the facts about the Battle of Little Bighorn and learn more about the westward expansion of the United States.