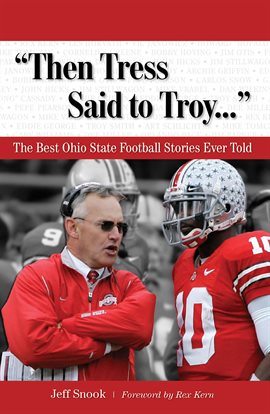 eBook hoopla
"Then Tress Said to Troy. . ."
Publication Information
Triumph Books
Summary
Here is your chance to go inside the huddle of the Ohio State Buckeyes, into their locker room and onto the sidelines, your chance to join your favorite players on the team plane, and at the team hotel. Go behind the scenes and peek into the private world of the players, coaches and decision makers, eavesdropping on their personal conversations. Read why Buckeyes and U.S. Presidents have mixed and mingled often through the years, often with humorous results, and how Woody Hayes always had to pick the team movie the night before each game. Speaking of the larger-than-life personality of Woody, you'll read why there was nobody better at scolding and molding his players on the field, and nobody better at taking care of them and their families off of it. You'll find out how Jim Tressel got the job at Ohio State he had been hoping for, and how he made the most of it, winning a national championship in his second year. You'll have a front row seat for the times when the memories were made and hear some of the great stories from the history of Ohio State football. "Then Tress Said to Troy..." is the book written for every sports fan who follows the Buckeyes. Don't be left out of the loop. Get the first hand accounts from true team insiders. No more rumors or second hand "he said, she said". Relive the highlights. Be there for the celebrations. Find out just how it really happened in "Then Tress Said to Troy..."