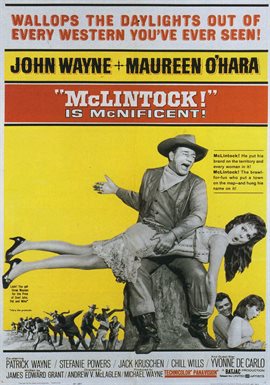 eVideo hoopla Instant
McLintock!
Year
1963
Language
ENGLISH
Duration
1h 59m
Rating
NR
CC
Performers
John Wayne, Maureen O'Hara, Patrick Wayne
Directed By
Andrew V. McLaglen
Written By
James Edward Grant
Publication Information
Film Chest Media Group
Summary
In this legendary John Wayne film, the cattle rancher McLintock puts his brand on the territory and every woman in it! The lovely Louise Warren plays a widow who moves with her two children onto McLintock's ranch to serve as cook, while Maureen O'Hara plays the estranged wife. Every great Western staple is accounted for: Cowboys, Indians, gun battles and fistfights. Plus, that pair of (now infamous) spanking scenes!A western version of "Taming of the Shrew," John Wayne stars as Cattle baron George Washington McLintock, who fights with his wife, his daughter, and political land-grabbers, finally "taming" them all.